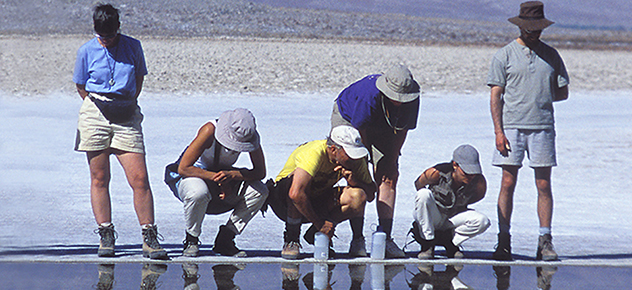 Into the Silence…2014 Desert Retreats
In the late 1980's, while looking for a possible retreat location, I happened into a broad, open canyon in southern Death Valley. Well above the valley floor, this place seemed to balance a grand perspective with a compelling, inward feel. Now, some 25 years later, this landscape has become like a friend to myself and so many others who have made a pilgrimage into its silence, spaciousness and textures.
2015 Retreats To be announced
The intention of this journey is to provide you with the time, the support and an abundance of space so that you can listen with all your heart; to move deeply into a quality of silence that is so uniquely held in the desert environment.  Human beings have traveled into this silence for millennium, seeking clear vision and answers to life's great questions.
It is a journey of self-discovery, a way of touching and trusting your inner guidance. The key is in the letting go of normal demands and distractions, entering for a consecrated time into the rhythms and directness of nature. In this landscape, you come in contact with a simplicity of being, with your strengths and fears and with new awareness of how and on what you place your attention. It is a vehicle for those who sincerely seek an understanding of life as it is, when our necessary focus of doing releases into the background of a vast sky, intimate quiet and reflection.
The Basic Design
Meet in Las Vegas, Nevada. Trailhead is less than 2 hours drive.
The first days at base camp are all about orienting to the land, learning about how to safely live in the desert environment and hearing from each other.
The central experience of the retreat occurs in solitude, when each participant walks out from the base camp for a 3-day and 3-night solo at a site previously chosen.
Upon returning to base camp, we rejoin in an essential re-entry process to share and better understand your solo experience. People of all ages, experience and physical condition have successfully participated on these retreats.
Please contact me for a more detailed description of logistics, what's included, equipment needs and the cost.