Journeying out to go within
A journey into nature, dedicated to self-discovery, runs deep in our human history. Throughout the ages, across all continents, ancient and modern people have been drawn to set aside a consecrated time in the natural world to seek inspiration, vision, healing and spiritual renewal. What I offer, are ways to create such a journey.
It may be just for yourself or in combination with others, for a few days to a whole week. It is a way of adventure, solitude, beauty and communion; a path that can reveal to us a depth of wisdom and connection with life that is our very birthright.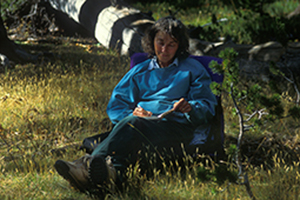 Would you like to create a wilderness journey or retreat just for yourself? Is it a time of fundamental transition or a calling to genuinely clarify your personal vision and direction? In 1988, I began providing experiences for individuals who wanted the focus and in depth attention of a private one on one outing lasting for several days to a full week. Carefully co-designed, these journeys are often centered around a time of extended solitude and are an avenue for profound personal change, perspective and empowerment. Read more about Adult Journeys and Youth Journeys.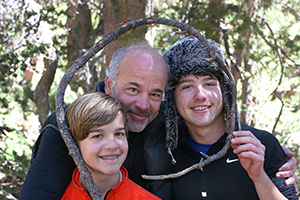 Families and groups can experience periods of challenge and transition as well as the need to simply deepen existing relationship and connection. A wilderness journey or residential retreat in a natural setting creates a dynamic container for a group wishing to break into new levels of honesty, relationship and creativity. My clients have included pre-existing groups such as: families or couples, men's and women's groups, youth, therapists and their clients, spiritual groups and small business management teams. Each experience is crafted to the specific need, physical capabilities and intent of the group. Learn more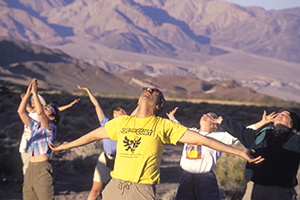 2015 Desert Retreats
To be announced
This is a desert wilderness journey into the vast world of space and silence found in Death Valley, California. I've been returning to an amazing canyon with clients for over 25 years. The intention is to provide you with the time, the support and inspiration to step deeply into your life…into your purpose, direction and heart. The central experience is a 3-day 3-night solo, with great care taken in the preparation and re-entry process. Learn More
Michael led me into the wilderness when I had lost my way. There in a pure encounter with nature I came home. His guidance was exquisite, sensitive and utterly supportive. I am truly grateful for this soul journey, it gave me back my life.

– Patricia Ellsberg , life-long peace and social activist.